About Us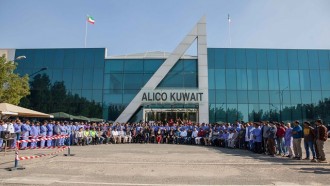 Alico Kuwait was established in 1994 as part of the Alico Group of construction Industry specialist companies which was formed in 1976, within the larger parent GIBCA Group to satisfy the demand for quality architectural aluminium and associated products in the region. The Kuwait operation is a natural extension of Alico's activities in the Middle East region.
In addition to the design and manufacture of aluminium windows, doors and curtain walling, Alico Kuwait quickly increased its range of products and services, offering custom designs and exclusive products through partnership and licensing agreements with leading international suppliers and manufacturers, such as Schuco International, Pilkingtons, Saint Gobain and Dow Corning.
Alico being the largest fabricator and installer of Schuco Architectural Aluminium products, has also succeeded over the years in delivering some world class and most challenging structures including conventional, point fixed & unitized Curtain Walls and Skylights.
ALICO also offer a range of top quality products from our sister companies in the GIBCA Group. Since 1994 Alico Kuwait has met the architectural challenges of some of the world's leading Architects through the application of modern design, new technologies, distinctive product integrity and the dedicated commitment of its staff.
The company's principle activity is to design, fabricate/manufacture and install the following range of products:
Aluminium curtain walling, (Conventional & Unitized) windows and doors.
Suspended glass assemblies.
Roof lights and skylights.
Aluminium cladding (Flat, honeycomb and composite).
Stainless steel cladding.
Balustrades and handrails.
Architectural metal work.
Point fixed glazing.
Partitions.
Doors and windows (Stainless steel, bullet resistant, fire resistant).
Blast resistant facades.
Cast aluminium decorative mashrabias, screens, lighting posts, street furniture etc…
Automatic doors (Sliding, hinged and revolving).
Retractable roofs.
Specialist decorative and architectural glass.
Coatings.
Retractable roofs.
Alico Kuwait is also working closely with international design consultants offering them design and material advice at the concept stage of their design.
Today Alico Kuwait continues to be the leading specialist architectural glazing and cladding company in Kuwait, operating from its modern offices and manufacturing facilities it has become synonymous with reliability through the delivery of quality, commitment and innovation.